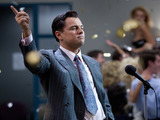 The Wolf of Wall Street was the most pirated film of 2014, according to data released by piracy-tracking firm Excipio.
Martin Scorsese's dramedy, which stars Leonardo DiCaprio, Jonah Hill and Margot Robbie, was illegally downloaded 30.35 million times between January 1 and December 23, 2014, having been released in December 2013.
Disney's Frozen was the second-most pirated film of the year, while Alfonso Cuarón's Oscar-winning Gravity was in third place.
2014's most pirated TV shows have also been revealed, with Game of Thrones leading for the third year running.
The top 10 most-pirated films of 2014 are as follows:
1. The Wolf of Wall Street
2. Frozen
3. Gravity
4. The Hobbit: The Desolation of Smaug
5. Thor: The Dark World
6. Captain America: The Winter Soldier
7. The Legend of Hercules
8. X-Men: Days of Future Past
9. 12 Years a Slave
10. The Hunger Games: Catching Fire
This news item can be discussed here