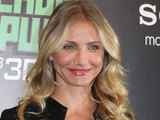 Cameron Diaz has admitted that she likes porn movies.
The actress openly revealed that she enjoys watching x-rated films on Jimmy Kimmel's chatshow.
She confessed: "I love porn. You know what I love about hotels? How discreet they are. They always give you that little thing at the bottom – 'Your room will be charged the same as any other room. Titles will be used.'"
The 38-year-old stars alongside ex-boyfriend Justin Timberlake and actor Jason Segel in new movie Bad Teacher and described the film as "filthy" but "fun".

Diaz also praised Timberlake for being such a good comedian.
She added: "We wanted Justin because he's such a brilliant comedian. He's so funny. He's very, very talented."