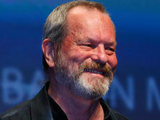 Terry Gilliam has admitted that he may not make any more movies.
The Imaginarium of Doctor Parnassus director said that he is experienced enough to know not to be "greedy" in the film industry.
"I've actually reached the point of not believing I'll ever make a film again," Bang Showbiz quotes him as stating. "I am reminded by my wife that I always feel like that but the great thing about getting older is your memory goes.
"I get easily distracted and greedy to do lots of films. Whenever I do that, things fall apart. I used to believe I could will things into existence but now I am older I know it doesn't work that way."