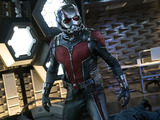 Paul Rudd's Ant-Man kept its top spot at the US box office for a second week in a row but not without competition from Adam Sandler's Pixel.
Ant-Man took in $24.7m, putting its total box office gross to $106m, while Pixels debuted in second place with $24m.
In Pixels, Sandler alongside Kevin James, Peter Dinklage, Josh Gad and Michelle Monaghan must save the world from an alien invasion of real-life video game characters such as Pac-Man and Donkey Kong.
Aside from Pixels, other new releases include Southpaw and Paper Towns. Southpaws landed in fifth place with $16.5m, followed by Paper Towns in sixth place with $12.5m.
Three of the summer's biggest movies remain in the top ten list. Minions, which had a huge debut earlier this month, slipped from second place to third place with $22.1m. Its total earning is now $261.6m.
Inside Out went from fourth place to seventh place with $7.3m, adding to its total earning of $320.3m.
Meanwhile, Jurassic World's $6.9m put it in fifth place, three spots down from last weekend's number eight spot. The dinosaur franchise has made a total of $623.8m in the box office since its debut in June.
Sir Ian McKellen's Mr Holmes improved from its last ranking, climbing up from eleventh place to ninth place with $2.8m.
Trainwreck and Terminator: Genisys dropped from the ranking but remain in the top ten this week.
The US weekend box office top 10 for July 24-26 is as follows:
1. (1) Ant-Man – $24,765,000
2. (-) Pixels – $24,000,000
3. (2) Minions – $22,100,000
4. (3) Trainwreck – $17,300,000
5. (-) Southpaw – $16,500,000
6. (-) Paper Towns – $12,500,000
7. (4) Inside Out – $7,356,000
8. (5) Jurassic World – $6,900,000
9. (11) Mr Holmes – $2,849,000
10. (6) Terminator: Genisys – $2,400,000
This box-office news can be discussed here