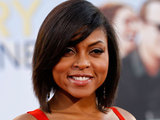 Think Like a Man has kept hold of the US box office number one spot for a second week.
The Screen Gems comedy featuring the likes of Gabrielle Union, Taraji P Henson, Michael Ealy, Kevin Hart, Jerry Ferrara, Meagan Good and Regina Hall took in a further $18 million this week.
It beat off competition from Aardman Animation's comedy The Pirates! Band of Misfits, which entered at number two with $11.4m.
Zac Efron's The Lucky One and The Hunger Games both slipped one place to three and four respectively. The Hunger Games has now taken in $372.45m at the US box office in total during its six weeks of release.
Emily Blunt and Jason Segel comedy The Five-Year Engagement entered in fifth place with $11.15m, while Jason Statham project Safe landed at six with $7.7m.
John Cusack's thriller The Raven completed the top ten new entries at seven with $7.25m.
Chimpanzee, The Three Stooges and The Cabin in the Woods each fall four places to complete the top ten.
The US box office top ten in full (studio estimates):
1. (1) Think Like a Man – $18,000,000
2. (-) The Pirates! Band of Misfits – $11,400,000
3. (2) The Lucky One – $11,325,000
4. (3) The Hunger Games – $11,250,000
5. (-) The Five-Year Engagement – $11,157,000
6. (-) Safe – $7,720,000
7. (-) The Raven – $7,250,000
8. (4) Chimpanzee – $5,460,000
9. (5) The Three Stooges – $5,400,000
10. (6) The Cabin in the Woods – $4,500,000