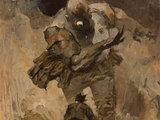 Sony Pictures has acquired the screen rights to IDW comic Zombies vs. Robots.
According to Deadline, the movie adaptation will be based on a script by JT Petty and produced by Michael Bay's Platinum Dunes.
The report states that the storyline follows a young girl who is the last surviving human on Earth. A group of robots battle to protect her from a pack of evolved zombies.
Created by Chris Ryall and Ashley Wood, the Zombies vs. Robots saga comprises two miniseries and an anthology. The concept features heavily in IDW's crossover event Infestation, and is due to spawn a third miniseries in April.
A potential release window for the project is yet to be announced.