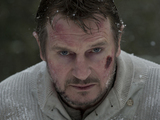 The Grey has dominated this weekend's US box office.
The Liam Neeson film took in $20m, surpassing studio estimates. The movie's opening was on par with Neeson's previous action films, including Taken and Unknown.
Katherine Heigl's latest movie One For the Money opened to a mere $11.8m, while the weekend's other new release Man on a Ledge pulled in an underwhelming $8.3m. However, both films were bolstered by Groupon and LivingSocial deals, as the websites were selling discounted tickets.
Underworld: Awakening fell to second place, earning $12.5m in its second weekend. Meanwhile, Red Tails took fourth place, adding $10.4m to its overall total.
The US box office top ten in full (studio estimates):
1. (-) The Grey – $20,000,000
2. (1) Underworld: Awakening – $12,500,000
3. (-) One For the Money – $11,750,000
4. (2) Red Tails – $10,400,000
5. (-) Man on a Ledge – $8,250,000
6. (4) Extremely Loud & Incredibly Close – $7,145,000
7. (16) The Descendants – $6,550,000
8. (3) Contraband – $6,532,200
9. (6) Beauty & the Beast 3D – $5,345,000
10. (5) Haywire – $4,000,000