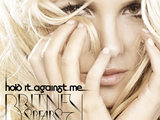 Britney Spears's new single has premiered online a day earlier than scheduled.
The singer, whose new track is called 'Hold It Against Me', announced last week that the full track would be unveiled across radio stations on Tuesday January 11, after a demo of the song leaked on the internet.
The song has since premiered online in full on music website Sound Cloud.
Lyrics to the song include: "If I said my heart was beating loud/ If we could escape the crowd somehow/ If I said I want your body now/ Would you hold it against me?"