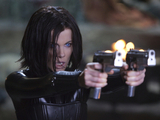 Underworld: Awakening has topped this weekend's US box office.
The latest instalment in the action horror franchise starring Kate Beckinsale took in over $24 million, and beat off competition from the George Lucas-produced Red Tails featuring Cuba Gooding, Jr.
Tom Hanks drama Extremely Loud and Incredibly Close rose from 36 to this weekend's number four position, while Haywire entered at five, bringing in $9m.
Last week's leader Contraband fell two places to three, while the rereleased Beauty and the Beast dropped to six.
The US box office top ten in full (studio estimates):
1. (-) Underworld: Awakening – $25,400,000
2. (-) Red Tails – $19,100,000
3. (1) Contraband – $12,200,000
4. (36) Extremely Loud and Incredibly Close – $10,545,000
5. (-) Haywire – $9,000,000
6. (2) Beauty and the Beast 3D – $8,556,000
7. (4) Joyful Noise – $6,075,000
8. (3) Mission: Impossible – Ghost Protocol – $5,540,000
9. (5) Sherlock Holmes: A Game of Shadows – $4,805,000
10. (7) The Girl With the Dragon Tattoo – $3,750,000