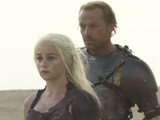 Game of Thrones will return to Sky Atlantic on Monday, April 2.
The premiere has been scheduled for 9pm, meaning that it will broadcast in the UK less than 24 hours after it airs on HBO in the US.
Lena Headey, who plays Cersei on the fantasy drama, teased that the second run will be "even more crazy" and "exciting".
Natalie Dormer, Liam Cunningham, Hannah Murray, Robert Pugh, Michael McElhatton and Patrick Malahide are among the actors who have signed up for this season's instalments of Game of Thrones.
The show's first run aired last year to critical acclaim. Peter Dinklage won an Emmy and Golden Globe Award for his turn as Tyrion Lannister.
Sky Atlantic recently picked up Showtime's House of Lies starring Don Cheadle. The channel also intends to air the first two seasons of American football drama Friday Night Lights starting from February.