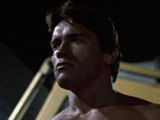 Terminator 5 will be given an R-rating, according to series rights holder Megan Ellison.
Ellison, whose studio Annapurna Pictures beat Lionsgate to the licence, confirmed the certificate when addressing fan questions on Twitter.
"We can't really tell you guys anything about Terminator BUT it will be an R-rated film as God and James Cameron intended," she wrote in response to a query from TheTerminatorFans.com.
Terminator 5 is rumoured to be a series reboot in the vein of JJ Abrams's Star Trek. Arnold Schwarzenegger is expected to be involved in the project in some capacity.
Justin Lin was previously announced as the film's director, but scheduling conflicts have since cast the appointment in doubt. Lin is currently working on Fast and Furious 6, as well as Summit's Highlander reboot.
Terminator 5 is expected to be released in 2014.