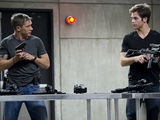 McG's upcoming spy comedy This Means War will undergo some last minute changes in order to gain a PG-13 rating in the US.
20th Century Fox recently came to an agreement with the Rating Appeals Board to cut out some of the film's raunchier jokes to lose an R rating.
The more lewd parts in question are said to come mostly from Chelsea Handler's character, who makes several sexually explicit jokes throughout the film.
The film stars Tom Hardy and Chris Pine as best friends and government operatives who end up vying for the affections of the same woman, played by Reese Witherspoon.
This Means War is due for release on February 14, 2012.