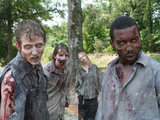 The Walking Dead creator Robert Kirkman has revealed that planning for a third season has begun.
The zombie drama, which stars Andrew Lincoln and Sarah Wayne Callies, was officially picked up for a third run in late October.
"Despite just having gotten the final word on season three, you don't do a show like this without being mindful of what you're building towards," Kirkman told Entertainment Weekly.
"At least once a week in the writers' room, we spend an hour or two just talking about all the different things that we're planning on doing in a proposed third season."
The comic writer added that many plot threads from the show's first two seasons will be resolved in the third.
"We're going to pay off on various different things that have happened in season one and season two," he confirmed.
The Walking Dead airs on Fridays at 10pm on FX in the UK, and continues on Sundays at 9/8c on AMC in the US.