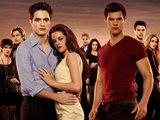 Twilight: Breaking Dawn – Part 1 convincingly held onto its box office lead in Thanksgiving weekend.
The penultimate vampire movie, starring Robert Pattinson, Kristen Stewart and Taylor Lautner, last week debuted with a huge $139.5 million, the fifth-highest opening in box office history.
The Muppets premiered strongly in second place, while Happy Feet Two fell to third place.
Both Arthur Christmas and Hugo exceeded expectations by finishing fourth and fifth respectively.
3D action thriller Immortal's sharp fall continued, from third to seventh, overtaken by Jack and Jill.
US box office top ten for the five-day Thanksgiving weekend (studio estimates):
1. (-) The Twilight Saga: Breaking Dawn – Part 1 – $62.2 million
2. (-) The Muppets – $42 million
3. (2) Happy Feet Two – $18.5 million
4. (-) Arthur Christmas – $17 million
5. (-) Hugo – $15.3 million
6. (4) Jack and Jill – $14.1 million
7. (3) Immortals – $12.5 million
8. (5) Puss in Boots – $10.3 million
9. (6) Tower Heist – $10.1 million
10. (-) The Descendents – $9.4 million