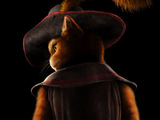 DreamWorks animated sequel Puss in Boots has topped the US box office for the second week in a row.
The Shrek spinoff took $33m this weekend, pulling ahead of ensemble comedy Tower Heist, which opened to $25.1m.
Comedy sequel A Very Harold & Kumar 3D Christmas opened to $13.1m while horror flick Paranormal Activity 3 falls to fourth with $8.5m.
Rounding out the top five films of the weekend is sci-fi drama In Time, which took $7.7m for its second weekend of release.
This week's US box office top ten (studio estimates):
1. (-) Puss in Boots – $33 million
2. (-) Tower Heist – $25.1 million
3. (-) A Very Harold and Kumar 3D Christmas – $13.1 million
4. (2) Paranormal Activity 3 – $8.5 million
5. (3) In Time – $7.7 million
6. (4) Footloose – $4.55 million
7. (6) Real Steel – $3.4 million
8. (5) The Rum Diary – $2.98 million
9. (8) The Ides of March – $2 million
10. (9) Moneyball – $1.9 million