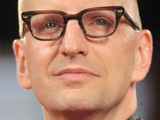 Steven Soderbergh has reportedly quit as director for the upcoming Man from U.N.C.L.E. adaptation.
The Contagion director had been developing the project with writer Scott Z. Burns since early 2010, but has now dropped out due to disagreements with Warner Bros, according to The Playlist.
Soderbergh is said to have clashed with Warner Bros over the film's budget and lack of a male lead, after a deal with Bradley Cooper fell through recently.
Channing Tatum was said to be considered for the lead role, but has now reportedly also exited. George Clooney also decided against signing up for the main part of US agent Napoleon Solo.
The director was also displeased with the studio's lack of concrete plans for the film's production, with shooting expected to have started in March 2012.
Warner Bros are now reportedly looking to reschedule the project's filming dates with a new director.
Steven Soderbergh recently downplayed reports that he was planning to retire in the near future.