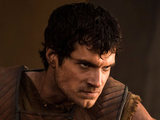 3D action thriller Immortals has reigned victorious atop the US box office.
Tarsem Singh's fantasy, starring Henry Cavill, debuted in pole position after taking $32 million over the weekend.
Adam Sandler comedy Jack and Jill had to settle for second place, opening with $26 million.
Puss In Boots was knocked down to third place with $25.5 million, having topped the box office for the last fortnight.
Rounding off the top five films, Clint Eastwood's J. Edgar, starring Leonardo Di Caprio, managed $11.5 million but was beaten to fourth place by Tower Heist.
This week's US box office top ten (studio estimates):
1. (-) Immortals – $32 million
2. (-) Jack and Jill – $26 million
3. (1) Puss In Boots – $25.5 million
4. (2) Tower Heist – $13.2 million
5. (-) J. Edgar – $11.5 million
6. (3) A Very Harold and Kumar 3D Christmas – $5.9 million
7. (5) In Time – $4.15 million
8. (4) Paranormal Activity 3 – $3.63 million
9. (6) Footloose – $2.74 million
10. (7) Real Steel – $2 million