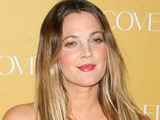 Drew Barrymore has been named as Hollywood's most overpaid actor.
The 50 First Dates star received the dubious honour from Forbes Magazine for returning just 40 cents (25p) in box office gross for every $1 (60p) she is paid.
Barrymore's most recent film, the 2010 romantic comedy Going The Distance, grossed just $11m (£6.8m) in ticket sales from an estimated budget of $32m (£19.9m).
Eddie Murphy finished second by making $2.70 (£1.70) for every $1, while last year's champion Will Ferrell came third with $3.50 (£2.20). Reese Witherspoon and Denzel Washington rounded out the top five with $3.55 (£2.21) and $4.25 (£2.65) respectively.
Nicolas Cage, Adam Sandler, Vince Vaughn, Tom Cruise and Nicole Kidman also appeared on the rankings.
The list was based on the compensation awarded to Hollywood's 40 top-earning actors for their last three films compared against the operating income on those pictures.