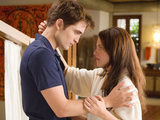 The Twilight Saga: Breaking Dawn – Part 1 has crushed its competition at the US box office.
The penultimate instalment in The Twilight Saga, which was met with negative early reviews, posted the fifth highest opening weekend ever, taking in approximately $139.5 million from 4,061 locations.
Only Harry Potter and the Deathly Hallows – Part 2, The Dark Knight, Spider-Man 3, and The Twilight Saga: New Moon have earned more on the opening weekend.
The final instalment of The Twilight Saga will open on November 16, 2012.
Happy Feet Two opened to $22 million, falling short of expectations. The original film opened to $41.5 million in 2006.
3D action thriller Immortals saw a sharp drop in its second week. The Henry Cavill film fell to third place, taking in $12.3 million, which brought its total earnings to $52.9 million.
Meanwhile, Adam Sandler's Jack and Jill dropped to fourth place, pulling in $12.0 million to bring its total earnings to $41 million.
The animated film Puss in Boots rounded out the top five films, taking in an additional $10.7 million.
This week's US box office top ten (studio estimates):
1. (-) The Twilight Saga: Breaking Dawn – Part 1 – $139.5 million
2. (-) Happy Feet Two – $22 million
3. (1) Immortals – $12.3 million
4. (2) Jack and Jill – $12 million
5. (3) Puss in Boots – $10.7 million
6. (4) Tower Heist – $7 million
7. (5) J. Edgar – 5.9 million
8. (6) A Very Harold and Kumar 3D Christmas – $2.9 million
9. (7) In Time – $1.7 million
10. (-) The Descendents – $1.2 million