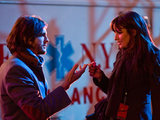 New Year's Eve has held off competition from The Sitter to top the US box office on its debut weekend on release.
The romantic ensemble, which features an all-star cast that includes Ashton Kutcher, Zac Efron, Lea Michele, Jessica Biel, Robert De Niro and Jon Bon Jovi, pulls in $13.7 million in ticket sales to take top spot.
The total is one of the lowest first-place debuts of 2011, and falls some way short of the $63 million earned by its predecessor Valentine's Day in 2010.
Breaking Dawn – Part 1 slips to third place, The Muppets drops two spots to number four and Arthur Christmas rounds out the top five.
The US box office top ten in full (studio estimates):
1. (-) New Year's Eve – $13,705,000
2. (-) The Sitter – $10,000,000
3. (1) The Twilight Saga: Breaking Dawn – Part 1 – $7,900,000
4. (2) The Muppets – $7,070,000
5. (4) Arthur Christmas – $6,600,000
6. (3) Hugo – $6,125,000
7. (7) The Descendants – $4,385,000
8. (5) Happy Feet Two – $3,750,000
9. (6) Jack and Jill – $3,200,000
10. (8) Immortals – $2,442,000