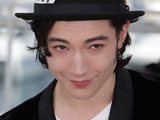 Ezra Miller has described We Need to Talk About Kevin as "the most hardcore film shoot" he has ever done.
Directed by Lynne Ramsay, We Need to Talk About Kevin follows a mother (Tilda Swinton) of a teenage boy (Miller) who committed a school massacre.
Miller, who previously said that he felt connected to Kevin, told Indiewire what it was like shooting a movie dealing with such heavy material.
"I've been on a few dark movie shoots, and you think that because the material is dark that the experience would be dark," the young actor said.
"But actually, the act of creating a film with dark subject matter is a practice in shedding light. Because in order to depict something dark, you have to shed light on it. That's how images work. So we were just balling out. It was a blast.
"Every night we'd go to this spot where Lynne and Rory and a bunch of the other core creative people lived. We called it the 'wee commune' because they're all from the UK and they all greatly value the word 'wee' to describe anything cute or small.
"So we would just sing songs and tell jokes and stay up until way past dawn. And then at some point [cinematographer] Seamus McGarvey in his thick Northern Scottish accent would say, 'oohkay, we have a major motion picture to shoot in the morning'.
"We'd climb into bed and wake up four minutes later to hit the 16-hour, 25-page day. This was the most hardcore film shoot I've ever been on. I've never witnessed such an elite crew of ninja filmmakers doing their thing before."