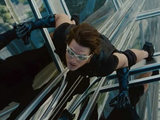 Mission: Impossible – Ghost Protocol has topped the Christmas weekend US box office.
The Paramount movie sequel, starring Tom Cruise, debuted with over $46 million.
Robert Downey Jr detective movie Sherlock Holmes: A Game of Shadows was knocked down to second place, grossing nearly $32 million.
David Fincher's The Girl with the Dragon Tattoo finished in fourth place after earning $19.4m, losing out on the third spot to Alvin and the Chipmunks – Chipwrecked, which had $20m.
Steven Spielberg's animated The Adventures of Tintin rounded out the top five, making just over $16 million.
The US box office top ten in full (studio estimates):
1. (-) Mission: Impossible – Ghost Protocol – $46,210,000
2. (1) Sherlock Holmes: A Game of Shadows – $31,810,000
3. (2) Alvin and the Chipmunks: Chipwrecked – $20,000,000
4. (-) The Girl with the Dragon Tattoo – $19,400,000
5. (-) The Adventures of Tintin – $16,100,000
6. (-) We Bought a Zoo – $15,600,000
7. (-) War Horse – $15,000,000
8. (-) The Darkest Hour – $5,500,000
9. (4) New Year's Eve – $4,950,000
10. (9) The Muppets – $3,350,000