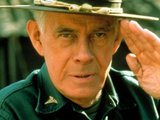 Harry Morgan has died, aged 96.
The actor was perhaps most well known for playing Colonel Potter in the long-running sitcom M*A*S*H*. His son Charles confirmed that Morgan passed away at his home in Los Angeles.
Morgan was a prolific character actor who appeared in over 100 movies, including High Noon, Inherit the Wind, How the West was Won and the 1987 Dragnet remake with Tom Hanks.
He often played loyal sidekicks, sheriffs, Western baddies, police chiefs and judges in his many roles.
Morgan was also known for portraying officer Bill Gannon in the 1967 update of Dragnet, Pete Porter in sitcom Pete and Gladys and Amos Coogan in Hec Ramsey.
He won an Emmy Award in 1980 for his role as Potter in M*A*S*H*.
More recently he appeared in television shows including 3rd Rock from the Sun and Murder, She Wrote.
His son said: "My dad would read a script the way somebody else would read Time magazine and put it down and be on the set the next day.
"Appearing on a talk show to focus on himself because he was Harry Morgan was not nearly as natural as appearing in a role as Pete Porter or Bill Gannon or Colonel Potter, or as the cowboy drifter who wandered into town with Henry Fonda and got wrapped up in a vigilante brigade in Ox-Bow Incident."