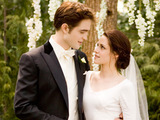 Twilight: Breaking Dawn – Part 1 has topped the US box office for a third week in a row.
The penultimate movie in the vampire franchise, starring Robert Pattinson, Kristen Stewart and Taylor Lautner, took $16.9 million in one of the quietest weekends of the year.
The Muppets – starring Jason Segel and Amy Adams – held steady at two, while Hugo climbed two places to third place.
Arthur Christmas levelled at four, with Happy Feet Two falling two to complete the top five.
There were no new entries inside the top ten, with The Descendants climbing up two spots to this week's seven.
This week's US box office top ten (studio estimates):
1. (1) The Twilight Saga: Breaking Dawn – Part 1 – $16.9 million
2. (2) The Muppets – $11.2 million
3. (5) Hugo – $7.62 million
4. (4) Arthur Christmas – $7.35 million
5. (3) Happy Feet Two – $6 million
6. (6) Jack and Jill – $5.5 million
7. (9) The Descendants – $5.2 million
8. (7) Immortals – $4.39 million
9. (10) Tower Heist – $4.1 million
10. (8) Puss in Boots – $3.05 million