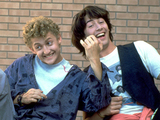 Alex Winter has confirmed reports that a third film in the Bill & Ted franchise is in development.
Winter appeared as Bill alongside Keanu Reeves in the original two films, and has admitted that the two actors have finally settled on an idea for the characters' third appearance.
However Reel Movie News has claimed that the new film will not involve the character of Rufus, previously played by George Carlin.
Winter explained that because of the nature of the films it wouldn't work to simply recast the role, after Carlin's death in 2008 from heart failure.
"That would be horrible. That's the thing about the movies – they're personality-based," Winter told MTV. "We're definitely not going to recast Rufus."
Winter concluded that although they were only at the beginning stages of planning the film, it will reportedly take place 20 years after the conclusion of the last film Bill & Ted's Bogus Journey.
This story can be commented on here: NTSC User's Message Board (registration required)