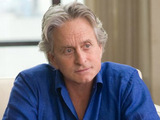 Wall Street: Money Never Sleeps has topped the US box office on its first weekend on release.
Oliver Stone's sequel, which sees Michael Douglas reprise his role as Gordon Gekko, took in $19 million to see off competition from owl animation Legend Of The Guardians to secure top spot.
The financial drama also continues Shia LaBeouf's winning box office streak. All of LaBeouf's major releases, stretching back to 2007's Disturbia, have reached the box office summit in the US.
Last week's number one The Town falls to number three, Easy A is at four and new release You Again reaches number five.
Elsewhere, Inception spends its eleventh week in the top ten, charting in tenth place with just over $1 million in ticket sales.
The US box office top ten in full:
1. (-) Wall Street: Money Never Sleeps – $19,000,000
2. (-) Legend Of The Guardians: The Owls Of Ga'Hoole – $16,335,000
3. (1) The Town – $16,030,000
4. (2) Easy A – $10,700,000
5. (-) You Again – $8,300,000
6. (3) Devil – $6,479,000
7. (4) Resident Evil: Afterlife – $4,900,000
8. (5) Alpha And Omega – $4,700,000
9. (6) Takers – $1,650,000
10. (8) Inception – $1,245,000