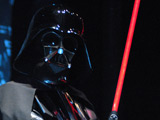 The Star Wars series is to be released in 3D from 2012, it has been revealed.
The six films will reportedly be converted into 3D and released to cinemas in narrative order, beginning with 1999's The Phantom Menace and concluding with 1983's Return of the Jedi.
Although The Phantom Menace 3D is scheduled to hit theatres in 2012, subsequent release dates are yet to be established, since each movie takes at least a year to be converted from 2D to 3D, according to The Hollywood Reporter.
Lucasfilm spokeswoman Lynne Hale said: "The process is really extensive, and we want to make sure each of the films gets the attention it needs, so we're not ready to talk about the release patterns of the other films."
Creator George Lucas, who will personally oversee the conversions, previously admitted that the success of Avatar had encouraged him to press ahead with the project, which was originally announced in 2008.