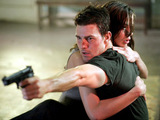 One of the stars of Swedish thriller The Girl with the Dragon Tattoo, Michael Nyqvist, has joined the cast of Mission: Impossible 4.
Nyqvist will play the film's lead villain, according to The Hollywood Reporter.
The actor joins Jeremy Renner, Paula Patton, Vladimir Mashkov and franchise veterans Tom Cruise, Ving Rhames and Simon Pegg in the sequel.
JJ Abrams is producing the picture, which will be directed by Brad Bird.
Mission: Impossible 4 is scheduled for a December 2011 release in US cinemas.