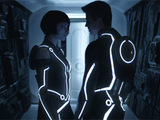 Disney has reportedly expressed its confidence in the upcoming Tron: Legacy by planning a number of follow-up projects for the franchise.
Tron: Legacy, which will release on December 17, is a big budget sequel to the 1982 cult hit Tron starring Jeff Bridges.
Bleeding Cool reports that an animated Tron series is to begin airing in late 2011 on the Disney Channel.
Disney has already announced that preceding the animated show will be a ten-part micro-series airing on Disney XD that aims to bridge the gap between this year's film sequel and the new series.
It has also been rumoured that Tron Uprising may be the title of the new animation.