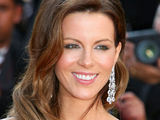 Kate Beckinsale has signed up to star in Underworld 4.
The 37-year-old agreed to reprise her role as Selene in the action-horror franchise, according to Deadline.
The movie has been penned by The Shield writer John Hlavin and rewritten by J. Michael Straczynski. No director is currently attached.
Filming is expected to begin in Vancouver in March, and distributor Screen Gems has set a release date of January 20, 2012.
It was previously rumoured that the film would be shot in 3D.