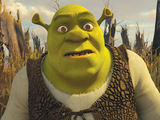 Shrek Forever After has taken pole position at the US box office.
The fourth film in the animated comedy series nets $70 million, besting blockbusters Iron Man 2 and Robin Hood to emerge as the top movie Stateside over the weekend.
Letters To Juliet and Just Wright complete the top five, while Saturday Night Live spinoff MacGruber is at number six.
Elsewhere, Bollywood production Kites opens at number ten.
The US box office top ten in full:
1. (-) Shrek Forever After – $70,838,207
2. (1) Iron Man 2 – $26,361,258
3. (2) Robin Hood – $18,769,220
4. (3) Letters To Juliet – $9,006,266
5. (4) Just Wright – $4,290,431
6. (-) MacGruber – $4,043,495
7. (7) Date Night – $2,913,504
8. (6) A Nightmare On Elm Street – $2,321,388
9. (5) How To Train Your Dragon – $1,901,211
10. (-) Kites – $958,673