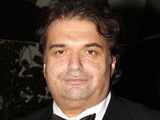 Brittany Murphy's husband Simon Monjack has been found dead at his Hollywood Hills home.
Los Angeles police sergeant Louie Lozano confirmed that Monjack had passed away, only five months after his wife died from pneumonia.
Early reports claim that Murphy's mother-in-law found Monjack unconscious in his bedroom at 9.30pm. Paramedics attempted to resuscitate the 40-year-old, but he was pronounced dead from cardiac arrest last night.
"We have detectives at the scene. They are conducting their investigation. Once we have further information, we will provide it," said sergeant Lozano.
8 Mile star Murphy died on December 20, 2009. The cause of death was a combination of pneumonia, an iron deficiency and multiple drug intoxication. The drugs involved were legal and used to treat a respiratory infection, according to an autopsy.
Monjack, who was a screenwriter and producer on the films Factory Girl and Two Days, Nine Lives, blamed Hollywood for his partner's passing, claiming that the movie industry had "blood on their hands".