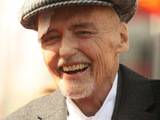 Actor Dennis Hopper has died at the age of 74 after a long battle with prostate cancer.
BBC News reports that Hopper passed away on Saturday morning surrounded by friends and family at his home in Venice, California.
The award-winning star, who was diagnosed with the illness last year, was last seen in public in March after being honoured on Hollywood's Walk of Fame.
In a career spanning 55 years, the Kansas-born actor was best known for co-writing, directing and starring in cult movie Easy Rider in 1969, for which he received an Academy Award nomination for 'Best Original Screenplay'.
His first film appearances on the big screen saw him appear alongside the legendary James Dean in Rebel Without A Cause in 1955 and Giant a year later.
After a quiet period, Hopper won attention for the acclaimed Apocalypse Now in 1979, and garnered another Oscar nomination for 'Best Supporting Actor' in 1986 basketball film Hoosiers. His last role was in drama Crash on the Starz network.