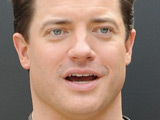 Brad Peyton is reportedly in talks to direct a Journey to the Center of the Earth sequel without Brendan Fraser attached to star.
Actor Josh Hutcherson, 17, will take the lead role in the follow-up, reports Deadline.
Hutcherson played the protagonist's nephew in the original 2008 movie.
It has been reported that Fraser is opting out of the film because original helmer Eric Brevig will not be available to direct.
Fraser could still make a deal with backers New Line and Walden Media to star, but sources have suggested that such a deal is unlikely.
The studios are eyeing a fall 2011 release date for the picture.