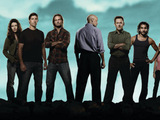 The finale of Lost may be considered for an Emmy Award thanks to a recent change in nomination rules.
The Academy of Television Arts and Sciences has announced via its website that under the new regime the show's extended conclusion will be considered for the 2010 Primetime Emmy Awards.
In previous years, extended episodes would not be considered if they ran longer than twice their usual length.
However, the Academy's board of governors has now voted to update the rules, meaning the two and a half hour Lost finale will be submitted for award consideration.