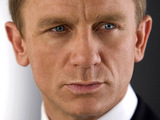 Sony Pictures has reached an agreement to co-finance and distribute the 23rd and 24th James Bond movies.
The studio, which also backed Daniel Craig's Casino Royale and Quantum of Solace, will release the Sam Mendes-directed Bond 23 on November 9, 2012.
The future of the 007 franchise had been cast into doubt following the recent financial plight of MGM, but the company emerged from bankruptcy with Gary Barber and Roger Birnbaum taking over as co-chairmen and chief executive officers of Hollywood's oldest studio.
"Sony Pictures is the ideal studio partner for us as MGM re-enters the filmmaking business. We have longstanding relationships with Michael and Amy and look forward to what promises to be a prosperous future together," said Barber and Birnbaum.
Sony co-chairman Amy Pascal added: "After successfully working on the relaunch of the James Bond franchise with Casino Royale and Quantum of Solace, we could not be more proud or privileged to continue our association with Barbara Broccoli, Michael G. Wilson, Daniel Craig, and the talented teams at EON and MGM."
Sony also intends to collaborate with MGM on non-Bond productions over the next five years.
The two Daniel Craig spy movies have grossed more than $1 billion (£612m) at the worldwide box office.