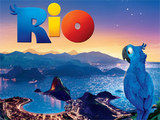 Fox's latest 3D animation Rio topped the US box office this weekend ahead of the latest instalment in the Scream franchise.
Rio took $40 million domestically, topping the $19 million brought in by Wes Craven's Scream 4, making it the highest weekend debut of the year so far.
The Easter-themed animation Hop fell to third place taking a respectable $11.1 million for its third weekend of release, followed by Soul Surfer which took $7.4 million.
Rounding out the top five films of the week is Joe Wright's action thriller Hanna, staring Saoirse Ronan and Cate Blanchett, which took $7.3 million.
This week's US box office top ten in full:
1. (-) Rio – $40,000,000
2. (-) Scream 4 – $19,300,000
3. (1) Hop – $11,160,000
4. (4) Soul Surfer – $7,400,000
5. (3) Hanna – $7,327,000
6. (2) Arthur – $6,940,000
7. (5) Insidious – $6,857,000
8. (7) Source Code – $6,300,000
9. (-) The Conspirator – $3,924,000
10. (6) Your Highness – $4,600,000