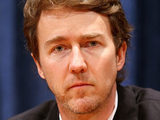 Edward Norton has discussed Marvel Studio's decision not to include him in future Hulk projects.
Speaking to The Independent, the Fight Club star launched a fresh attack on the studio, claiming that their motives were about nothing "other than money".
"I found it a cheap and unnecessary representation that it was about things other than money," he told the newspaper. "They came to me avidly to talk about it and then, at the end of the day, it was just flat out a business decision."
The actor went on to call Marvel's approach "low, unprofessional and dishonest", before saying that the firm is "going to have to deal with their own karma".
Norton portrayed Bruce Banner in 2008's The Incredible Hulk. Sometime after the movie's release, it was announced that Mark Ruffalo would succeed him in the role for The Avengers.
The move sparked a war of words between Marvel president Kevin Feige and Norton's agent.
The Avengers arrives in theatres on May 4, 2012.