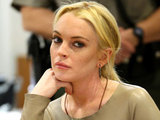 Lindsay Lohan has been sentenced to 120 days in jail for a probation violation.
The decision came after a preliminary hearing in the actress's grand theft case, in which she was accused of stealing a $2,500 (£1,500) necklace from a Los Angeles boutique in January this year.
LA Superior Court judge Stephanie Sautner had reduced Lohan's charge to a misdemeanor but said that the alleged theft was a violation of her probation for her 2007 drink driving and possession of drugs conviction.
The sentence marks the fourth time the 24-year-old has been in jail. Her attorney Shawn Holley said that she will appeal the ruling.
Sautner also ordered the star to serve more than 480 hours community service, including 300 at a women's centre. She said of Lohan: "Perhaps she might see how women who have fallen on real hard times have to live and maybe she will change."
Lohan has always denied the theft charge, saying: "I would never steal, in case people are wondering. I was raised not to lie, cheat or steal."
Lohan's career had recently received a boost after it was revealed that she had won a role alongside John Travolta in film about mafia boss John Gotti Sr.