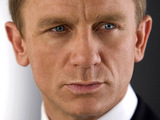 The boss of Pinewood Studios, where the Bond films are shot, has said that he is "sure" there will be another instalment in the future.
Producers of the 23rd film had hoped for a release in 2011 or 2012 but the franchise is currently on hold due to uncertainty over the future of MGM.
According to WENN, the delay had caused fears that Daniel Craig's Quantum of Solace would be the final film.
However, the studio's chief executive Ivan Dunleavy said: "I am sure there will be another Bond movie in future."
He added of the planned closure of the UK Film Council: "That decision has been made and there are a number of functions that the UK Film Council performs and they will be ongoing."
This news item can be discussed here: NTSC User's Message Board