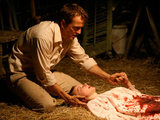 The Last Exorcism has debuted at the top of the US box office, earning $21.3 million over the weekend.
In a tight race, the action thriller Takers claims second place with $21 million.
The Expendables falls to number three with $9 million, followed by Eat Pray Love and The Other Guys, while Inception climbs up two spots to seventh place. With a budget of $160 million, Christopher Nolan's sci-fi film has now made over $110 million for Warner Bros.
Finally, Jennifer Aniston's The Switch takes the number nine spot, and Piranha 3D lands at number ten.
The US box office top ten in full:
1. (-) The Last Exorcism – $21,300,000
2. (-) Takers – $21,000,000
3. (2) The Expendables – $9,500,000
4. (-) Eat Pray Love – $7,000,000
5. (5) The Other Guys – $6,600,000
6. (2) Vampires Suck – $5,300,000
7. (9) Inception – $5,105,000
8. (8) Nanny McPhee Returns – $4,743,000
9. (7) The Switch – $4,658,000
10. (6) Piranha 3D – $4,308,000