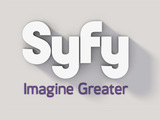 Syfy has released more details about forthcoming superhero series Three Inches.
It was previously reported that Naoko Mori and Stephanie Jacobsen will appear in the show, alongside former Buffy star James Marsters.
The network has now confirmed that Marsters will play Troy Hamilton, a former government agent and father figure to Walter (Noah Reid).
Kyle Schmid, Antony Del Rio and Brandon Jay McLaren have also joined the cast. Schmid will play cocky team leader Brandon, while Del Rio will portray The Human Smell, a teenage hero able to emit a pungent gas. McLaren will feature as Macklin Sportello, the best friend of Walter.
Alona Tal, Craig Edridge and Julian Richings will all guest star in the show's pilot episode.
The 90-minute pilot will begin filming in Canada on August 30.