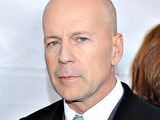 Sylvester Stallone has said that he wants to cast Bruce Willis as the villain in Expendables 2.
Stallone took to Twitter to announce his plan.
He tweeted: "Had dinner with Bruce Willis last night. I want him in EXPENDABLES II as a super villain. What do you think (sic)?"
Stallone has said that he has already "plotted out" a sequel to the hit action film, co-starring Jason Statham, Jet Li and Terry Crews.
The writer and director also revealed that directing the ensemble flick, which included Arnold Schwarzenegger, Bruce Willis and Mickey Rourke, had not been an easy task.