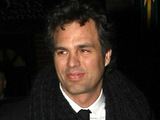 The Marvel Studios president has revealed that Hulk will resemble actor Mark Ruffalo in The Avengers.
Kevin Feige said that although previous portrayals of the green superhero have not been based on the actor playing Hulk's alter ego Bruce Banner, The Avengers will be different.
"It was something we actively avoided before," Feige told the Los Angeles Times. "Hulk was Hulk, he's not any one actor and Hulk should look like Hulk.
"But we've taken a different approach because Hulk is Banner and, frankly, we came to question our approach. Why are we not doing it this way? So we did a few designs that put Ruffalo into it, and we immediately saw how much more you feel for the creature."
Ruffalo was last year confirmed to replace Edward Norton in the role of scientist Bruce Banner for The Avengers.
The Kids Are All Right actor previously teased the first details about the story arc for his character in The Avengers, revealing that Banner will develop complicated relationships with both Iron Man and the Black Widow over the course of the film.
The Avengers opens on May 4, 2012.