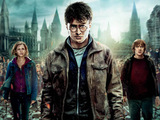 The final entry in the long-running Harry Potter franchise has broken box office records by becoming the highest domestic opening weekend ever.
Harry Potter and the Deathly Hallows: Part 2 took an estimated $168.5 million this weekend, topping the $158.7 million taken by The Dark Knight back in 2008.
Michael Bay's Transformers: Dark of the Moon falls to second place this weekend taking $21.2 million, followed by Seth Gordon's Horrible Bosses with $17.6 million.
The Kevin James-fronted family comedy Zookeeper took $12.3 million, followed by Pixar's Cars 2, which rounds out the top five films of the weekend with $8.3 million.
This week's US box office top ten in full (studio estimates):
1. (-) Harry Potter and the Deathly Hallows: Part 2 – $168,550,000
2. (1) Transformers: Dark of the Moon – $21,250,000
3. (2) Horrible Bosses – $17,630,000
4. (3) Zookeeper – $12,300,000
5. (4) Cars 2 – $8,344,000
6. (-) Winnie the Pooh – $9,000,000
7. (5) Bad Teacher – $5,200,000
8. (6) Larry Crowne – $2,572,000
9. (7) Super 8 – $1,925,000
10. (-) Midnight in Paris – $1,891,000