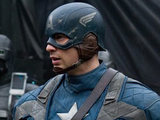 Captain America: The First Avengers has scored the highest superhero debut of the year, taking an estimated $65.8m in its opening weekend.
The Marvel Comics adaptation stars Chris Evans as the patriotic World War II superhero, and has so far been well-received by critics.
Last week's box-office record-breaker Harry Potter and the Deathly Hallows: Part 2 falls to second place this weekend, taking $48.1m, followed by this summer's latest R-rated romantic comedy Friends with Benefits, which opened to $18.5m.
Transformers: Dark of the Moon took $12m, while Jason Bateman comedy Horrible Bosses rounds out the top five films with $11.7m.
This week's US box office top ten in full (studio estimates):
1. (-) Captain America: The First Avenger – $65,800,000
2. (1) Harry Potter and the Deathly Hallows: Part 2 – $48,100,000
3. (-) Friends with Benefits – $18,500,000
4. (2) Transformers: Dark of the Moon – $12,000,000
5. (3) Horrible Bosses – $11,720,000
6. (4) Zookeeper – $8,700,000
7. (5) Cars 2 – $5,725,000
8. (6) Winnie the Pooh – $5,140,000
9. (7) Bad Teacher – $2,600,000
10. (10) Midnight in Paris – $1,900,000