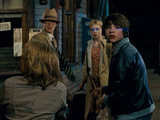 JJ Abrams' latest science fiction epic Super 8 has topped the US box office in its opening weekend.
The film, which stars Joel Courtney, Elle Fanning and Kyle Chandler, overtook last week's box-office topper X-Men: First Class by taking $37 million, compared to the Matthew Vaughn prequel's $25 million.
Comedy sequel The Hangover Part II falls to third place with $18.5 million, but officially became the highest-grossing film of 2011 earlier this week.
Animated family film Kung Fu Panda 2 falls one place to fourth taking $16.6 million, while Gore Verbinski's Pirates of the Caribbean: On Stranger Tides rounds out the top five films with $10.8 million.
This week's US box office top ten in full (studio estimates):
1. (-) Super 8 – $37,000,000
2. (1) X-Men: First Class – $25,000,000
3. (2) The Hangover Part II – $18,500,000
4. (3) Kung Fu Panda 2 – $16,635,000
5. (4) Pirates of the Caribbean 4: On Stranger Tides – $10,845,000
6. (5) Bridesmaids – $10,154,000
7. (-) Judy Moody – $6,267,000
8. (8) Midnight in Paris – $6,146,000
9. (6) Thor – $2,370,000
10. (7) Fast Five – $1,714,000