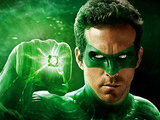 The DC Comics adaptation Green Lantern has topped the US box office in its opening weekend.
The Ryan Reynolds-led film, which has been savaged by critics, took a estimated domestic total of $52.6 million, placing it way ahead of last weekend's number one film, J.J. Abrams's much hyped sci-fi epic Super 8.
Jim Carrey's latest outing in the family comedy Mr Popper's Penguins opened to a disappointing $18.2 million, followed by Fox's mutant prequel X-Men: First Class with $11.5 million.
Rounding out the top five films of the weekend is Todd Phillips's comedy juggernaut The Hangover Part II, which took $9.6 million and is currently on course to achieve an overall revenue of $500 million.
This week's US box office top ten in full (studio estimates):
1. (-) Green Lantern – $52,685,000
2. (1) Super 8 – $21,250,000
3. (-) Mr. Popper's Penguins – $18,200,000
4. (2) X-Men: First Class – $11,500,000
5. (3) The Hangover Part II – $9,635,000
6. (4) Kung Fu Panda 2 – $8,700,000
7. (6) Bridesmaids – $7,487,000
8. (5) Pirates of the Caribbean 4 – $6,236,000
9. (8) Midnight in Paris – $5,237,000
10. (7) Judy Moody – $2,241,000