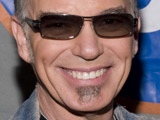 Billy Bob Thornton has claimed that he was uninterested in making a return to acting until he saw the script for the new Gayton brothers action film Faster.
Thornton's role in the film marks his return to acting after touring the country with his band the Boxmasters.
"The last movie was Eagle Eye and then we decided to hit the road," Thornton explained to The Hollywood Reporter. "With the economy, they aren't making as many movies so when you see a good one you got to grab it, and Faster was that.
"The great thing about every character in it, pretty much, there's a sort of ambiguity to all of them, and I always like characters like that," Thornton said of the film, which also stars Dwayne Johnson.
Faster opened in US cinemas last week, but has received a mixed response from critics so far. It will be released in the UK on February 25, 2011.