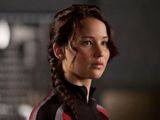 The Hunger Games has topped the US box office for the fourth week in a row.
Despite the premiere of two new highly-anticipated films this weekend, the dystopian drama starring Jennifer Lawrence and Josh Hutcherson managed to hold the number one spot, earning $21.5 million. It has made over $300 million domestically to date.
The Three Stooges debuted in second place with $17.1 million, while Joss Whedon critical favourite The Cabin in the Woods took third place with $14.8 million.
James Cameron's rereleased Titanic 3D fell one spot to number four with $11.6 million, and American Reunion had a larger drop from second to fifth place, earning $10.7 million.
Guy Pearce and Maggie Grace's sci-fi action movie Lockout made a dismal debut at number nine with just $6.25 million.
Other films still holding on to the Top 10 include Tarsem Singh's Mirror Mirror and Wrath of the Titans, which brought in $7 million and $6.9 million respectively.
Zac Efron's The Lorax still clings at number ten with $3 million.
The US box office top ten in full (studio estimates):
1. (1) The Hunger Games – $21,500,000
2. (-) The Three Stooges – $17,100,000
3. (-) The Cabin in the Woods – $14,850,000
4. (3) Titanic 3D – $11,625,000
5. (2) American Reunion – $10,700,000
6. (5) Mirror Mirror – $7,000,000
7. (4) Wrath of the Titans – $6,905,000
8. (6) 21 Jump Street – $6,800,000
9. (-) Lockout – $6,250,000
10. (7) Dr. Seuss' The Lorax – $3,020,000